Hudson Valley Activism Update!
Black Snake at the Hudson River
The Montrose 9 were convicted rather than exonerated as heroes who stalled the extension of the oil pipeline at one of three locations where they are attempting to bring fossil fuels across our clean river for foreign export.
Outdated, leaking, dangerous Indian Point nuclear facility in Peekskill, NY is scheduled to close…  by 2020. Thanks to sustained activism on site and in numerous forms including through leverage at the top including Chuck Schumer and Andrew Cuomo.
Pop-Ups under the Pipelines…
Citizens in our region are not accepting the dangerous transport across our landscape of toxic materials through metal tubes slicing across our countryside, municipalities & watersheds. Instead of simple blind rage at this injustice— they have gotten creative… inspiring a connection to nature and to highlight sustainable practices.
From building a replica model of the cabin from Walden in Ashfield, MA along the line of construction for the proposed pipeline in March…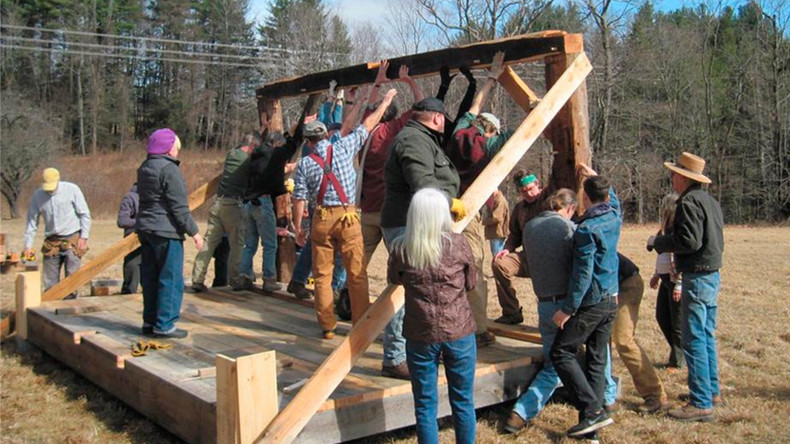 …to establishing a sustainable trailer with two occupants in the path of the AIM pipeline in Peekskill, NY in May…
…to the ongoing arrests involving the confluence of a dangerous high-pressure pipeline construction within close proximity of the failed and leaking Indian Point nuclear plant.  Several friends and allies recently constructed a tripod in the construction zone…
…leading to further arrests, further media coverage of this disastrous dangerous dirty energy being forced through for foreign investors by the anti-regulatory body FERC This is even in direct opposition to both NY Senators and others acting in protection of the longterm safety and clean energy future of this beautiful region.
Decades of activism are finally culminating in unanimous voices from NY state politicians, scientists and  in the natural defense of this region. As from "it's going down":
 In February, Governor Andrew Cuomo wrote to FERC asking for an immediate halt to construction while New York State conducts an independent risk assessment of siting the massive, high-pressure pipeline next to Indian Point Nuclear Plant. FERC denied the Governor's request, and claimed that a risk assessment by the Nuclear Regulatory Commission (NRC) showed that the plant was safe. Less than one month ago, on May 20th, Senators Charles Schumer and Kirsten Gillibrand called for an immediate halt to construction.
A few of us from Arc 38 were fortunate enough to be on hand when Earth Guardians opened its new office in Woodstock, NY… take a look! And now this space is available for local organizing, sharing information and otherwise activating our regional resilience… let's get connected!